Trends from London Fashion Week Men 2019
Written by olucapri on January 7, 2019
Sure, there's a little while to go until this stuff is in the stores, but consider this round-up of all the biggest AW '19 menswear trends your preparatory shopping basket, a wish list if you will. From the nutso stuff we saw on the runways of London, to the show-off central gear of Milan and the uber elegance of Paris, we've distilled all the big trends which will be coming your way next winter (primarily to give you a chance to get saving now).
From the most fashionable colours, to the most must-have of must-have accessories and the coats you'll be clamouring for when the temperature drops next autumn, here's everything you need to know for AW '19. Oh, and if you want to know the trends hitting the shops right now, read our guide to all the biggest Spring/Summer '19 trends here.
1) Heavy leather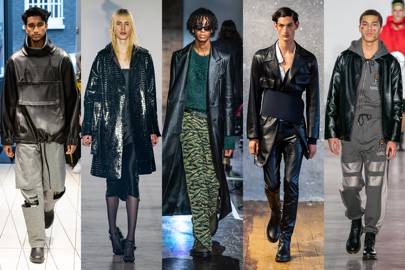 The mood was hells angels on heat (and then some) at the first day of shows for LFWM today. The temperatures outside were brisk, and the clothes shown indoors, on the capital's runways, looked ready to take on the challenge. From the Meatloaf-comeback-tour-ready leather trench coats (and trousers) at John Lawrence Sullivan, to the heavy duty leather donkey jackets at Bobby Abbley and Pronouce, to the heavy-duty leather corsetry and souped up bondage pieces at Art School and Daniel Fletcher; so long as it's black, matte and taken from the pelt of a bovine stronger than you, it should be on your back.
Oh, and the heavy matte leather fisherman's smock shown at Hussein Chalayan's excellent show was a thing of beauty.
2) Denim suits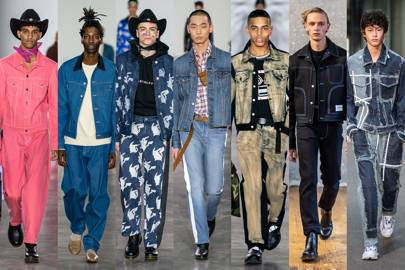 Though tailoring may have taken a hit in recent seasons, with a general move toward athleisure gear and hardcore sportswear, for Autumn Winter '19 suits are back, but not as you know it. On the first day of London Fashion Week Men's there were countless two pieces which hit the runways, but the majority were cut from denim rather than flannel.
From oversized denim chore jackets teamed with matching oversized jeans at Bobby Abbley and E Tautz, to neat little sixties-style denim jackets, complete with patch pockets and camp collars, teamed with slim cut jeans, double denim in its purest form was everywhere. Just don't call them Canadian Tuxedos.
3) Oversized trench coats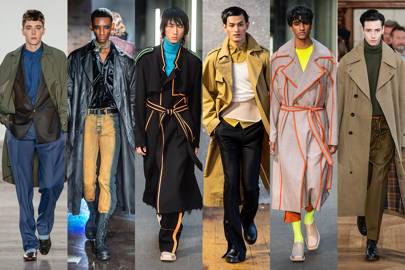 The trench coat trend really flapped into action with the dawn of Riccardo Tisci's first collection for Burberry last season, when the designer showed a host of iterations of the classically British style in fabrics ranging from classic Gabardine to cashmere. The eclectic reimaginings of the style continued at London Fashion Week Men's today, with a series of totally contrasting takes on a coat which was originally designed to protect soldiers from the elements in, you guessed it, the trenches of World War I. For AW'19 the best takes thus far include an oversized leather trench at John Lawrence Sullivan, a series of classic gabardine trenches in drapey proportions at wood wood, E Tautz and Daniel Fletcher; and our personal favourite, a series of neon taped, inside out-looking trench coats, neatly belted at the waist to balance their voluminous proportions, at Pronounce – the AW'19 show from the latter being a Saturday at LFWM highlight. Kent & Curwen's oversized trenches had a particularly preppy-meets-One Fine Day appeal, which felt surprisingly fresh.
4) Harry Potter scarves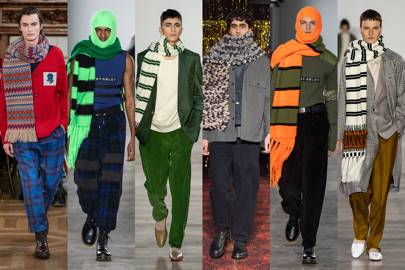 Ultra-thick and looking as though they've been knitted by nanas, the big accessory trend for Autumn Winter '19 is for massively oversized scarves a la Harry Potter. From the balaclava-hybrid styles at Bobby Abley, to the academic styles at Kent & Curwen and the super-long crusty-come-cosy pieces wrapped round models necks at E Tautz, in short, if it can't wrap round your neck at least six times, you don't want to know.
5) Split-leg trousers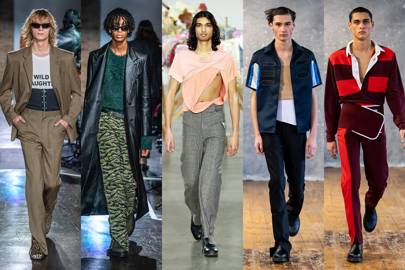 First seen during Mark Weston's Spring Summer '19 outing for Dunhill, wide leg trousers with popper bottoms (a la Kappa, back in the day), are all the rage for Autumn Winter '19. Designed to create a cleaner break when wearing a trouser with a wider base (as is the current wont), this style works particularly worn with western boots. Shown in leather at John Lawrence Sullivan, flannel at Daniel Fletcher and neon-piped mohair at Pronounce, trust us, this is the easiest way into the flared trouser trend.
6) Long line puffer jackets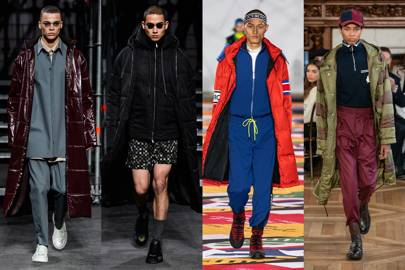 Less Ezra Miller in head-to-toe black PVC on the recent Fantastic Beasts 2 press run, more Zsa Zsa Gabor on the slopes of Gstaad, pretty much every show at London Fashion Week Men's (from the club-tie inspired styles at Kent and Curwen, to the retro wet look pieces at Iceberg and the high function long line puffers in tailoring fabrics at Qasimi) featured a long line puffer jacket. As the polar vortex starts to build, this is one trend we'd like to see in stores right about now.
source: gq
---